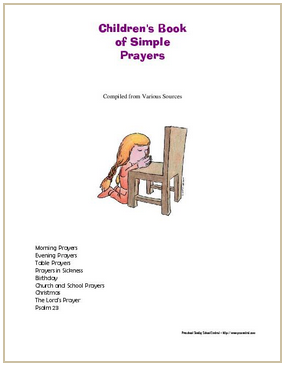 Here are some effective ways to help nurture the natural desire to pray in preschoolers.
Never force a child to pray. They will become comfortable at their own pace and by watching classmates pray.
Explain to your class why prayer is so important. Don't just assume that they are learning about prayer at home.
Post a prayer calendar in your classroom and begin class each week with a prayer from the calendar.
Take a "Prayer Walk" around your church during class and stop along the way to pray for certain people, such as pastors, administrative folks, etc. Pray for church events as well.
Children's Simple Prayers eBook
26 page eBook filled with 78 prayers for preschoolers!
Morning Prayers; Evening Prayers; Table Prayers; Prayers in Sickness; Birthday; Church and School Prayers; Christmas; The Lord's Prayer; Psalm 2